Recording Artist

Session Drummer

Touring Musician

Clinician

Teacher
I have been teaching professionally for over 35 years. I am accepting students one-on-one at my studio in Italy and also online.

I teach all styles of drumming rock, fusion, Prog. Rock, Metal, Jazz, Latin, and more. I teach students at all levels, beginner to pro. So if you are looking to just play for fun or pursue a career as a drummer I can teach you.

My lesson program is this, I teach you what you want to know but also what you need to know at the same time. The lessons are fun but intense at the same time. Relaxed atmosphere but you will walk out of lessons with something learned, something you will keep with you for life.
My lessons have a strong focus on sound because, in the end, that's what it is all about…SOUND. I work on hand technique, getting power, speed, and finesse. I use a lot of Moeller Methods for the hands but also show my system of hand technique using snaps, throwdowns, pullouts, and more. I show students how to get the best sound and feel but not have to exert lots of energy. Stamina is extremely important for live shows and studio recording. With these hand techniques, you will be able to play all day long without conking out from exhaustion. Foot techniques are the key to playing heavy and intense or dynamic and laid back, it's all in the feet. I teach a heel-up method that will give you power and speed and again use little energy. As much as I teach how to get full volume on the kit I teach students how to play as light as they can and still hold a groove and speed. That is not easy for students usually but there's a "dynamic system" I use to show how it is done. Dynamics are so important in drumming and without accents, it's not music. I have taught many students that have gone on to play in famous bands as well as become great teachers. This focus on dynamics is one key thing that my students have said helped them the most on gigs, auditions, album recording dates. It WORKS!!!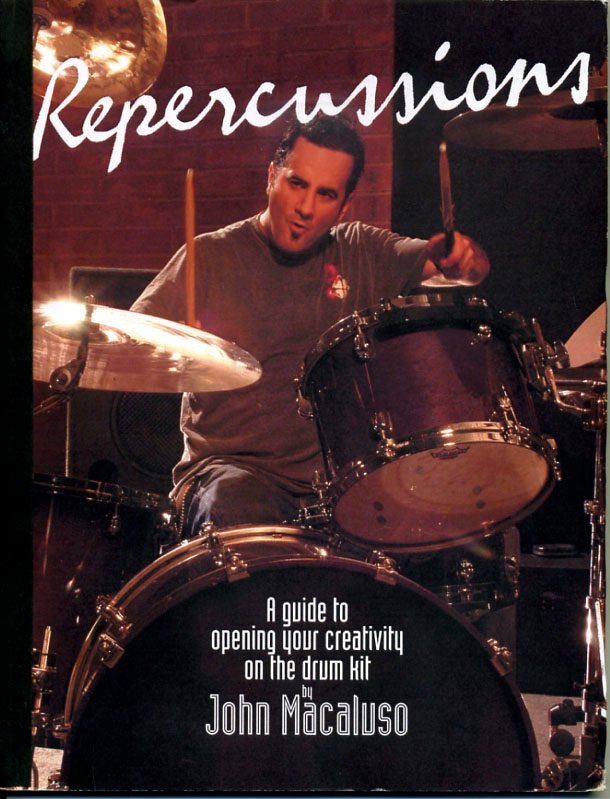 I released a drum book titled "REPERCUSSIONS" (A Guide To Opening Your Creativity On The Drum Kit). In the book there is a strong emphasis on Linear Drumming, using rudiments in drum beats, Double Bass, Hand Techniques, Playing to a click and making it groove, Studio Recording tips, Hi-Hat rolls, and more. I teach out of my book in drum lessons. I feel that the most important thing for and musician is to have his or her original sound and feel. My book focuses on creativity and I show you how to start to develop your own signature on the kit. Working as a professional drummer and getting called to tour or record an album for your own sound is the greatest gift you can get. I am releasing my second drum book this year 2022. The book is called "UNITED SOUNDS OF SEPARATION" (Linear Drumming). A big part of my sound and playing is linear drumming and I teach my students a lot of linear and show them the advantages of linear and how it can be used to make music on the drums, not just keep beats but create on the kit. 
I have worked as a studio session drummer for most of my life, so for students that are making their first album or pro drummers that want to learn studio tips these lessons are very helpful. I teach a lot of things that can be overlooked in drum lessons, for example, Drum Tuning. Very important to know how to tune up a drum kit and get its maximum sound. Also working as a session player for decades through trial and error, I can teach the student What to do in the studio and just as important…WHAT NOT TO DO. We learn playing to a click track in-studio and where to sit with the click to make it groove for the particular style of music. Super important in today's world where everything is digital now, so playing to the click is the most important thing for drummers in the studio. I teach how to play behind the click for fatter sound and deeper groove, how to play dead on click and bury it, and how to push the beat if the style of music requires it. Big focus on creating drum parts to fit the song, so song structure is studied in my lessons. Also working with bands and producers and engineers. If you are going to drum for a living, it is so important to be able to work with different musicians you have never met before and give them what they want out of your drumming. So real-world experience in the music business is something you can take out of these lessons and use in your life and career.
My first drum teacher Jim Holland taught me early on not to just play one style of music. I do the same with my students. We do a lot of rock and Prog Metal as well as double bass but also World Rhythms from around the world, such as Latin, Brazilian, Afro Cuban, Eastern and Indian, African, and much more. This is a great way to make original parts on the kit, by blending world rhythms into your rock or metal grooves. As a session drummer, I have recorded all styles of music from the metal and prog rock of Yngwie Malmsteen and Michael Romeo (Symphony X) to the funk and jazz of Delmar Brown (Sting, Joco) and even rapper KRS-One. So my lessons have a big variety of styles, sounds, and grooves.
Other subjects covered in lessons READING AND CHART READING. It is so important for drummers to read and we start from day one with a fun and proven reading method I teach, it's painless – haha! In a very short time, you will understand and be able to read drum books, charts and even start writing yourself.
So all you need is a pair of sticks and a book to write in and immediately start learning.
I teach private lessons, one on one in my studio in Rieti, Italy. Comfortable atmosphere, great equipment, good sound. I am also doing ONLINE LESSONS. This is a great opportunity to teach students around the world. If interested in booking a lesson or just to get info on studying, contact me via my contact form.