My main recording drum kit – tuning up my studio kit before session. This custom kit was made for me in Italy of maple and beech wood. Sizes:
Toms 8", 10", 12", 13"

Floor Tom 18"

Kick Drum 22"
My Second Recording & Live Kit
Here is my other drum set, which was made for me by Tullio, the owner of Tamburo Drums from Italy. This kit is my Signature Drum Set called "Tamburo F1 Macaluso Series". All Maple shells, beautiful melodic sound. Sizes:
Power Toms 8", 10", 12", 13"

Floor Tom 16"

Kick Drum 22"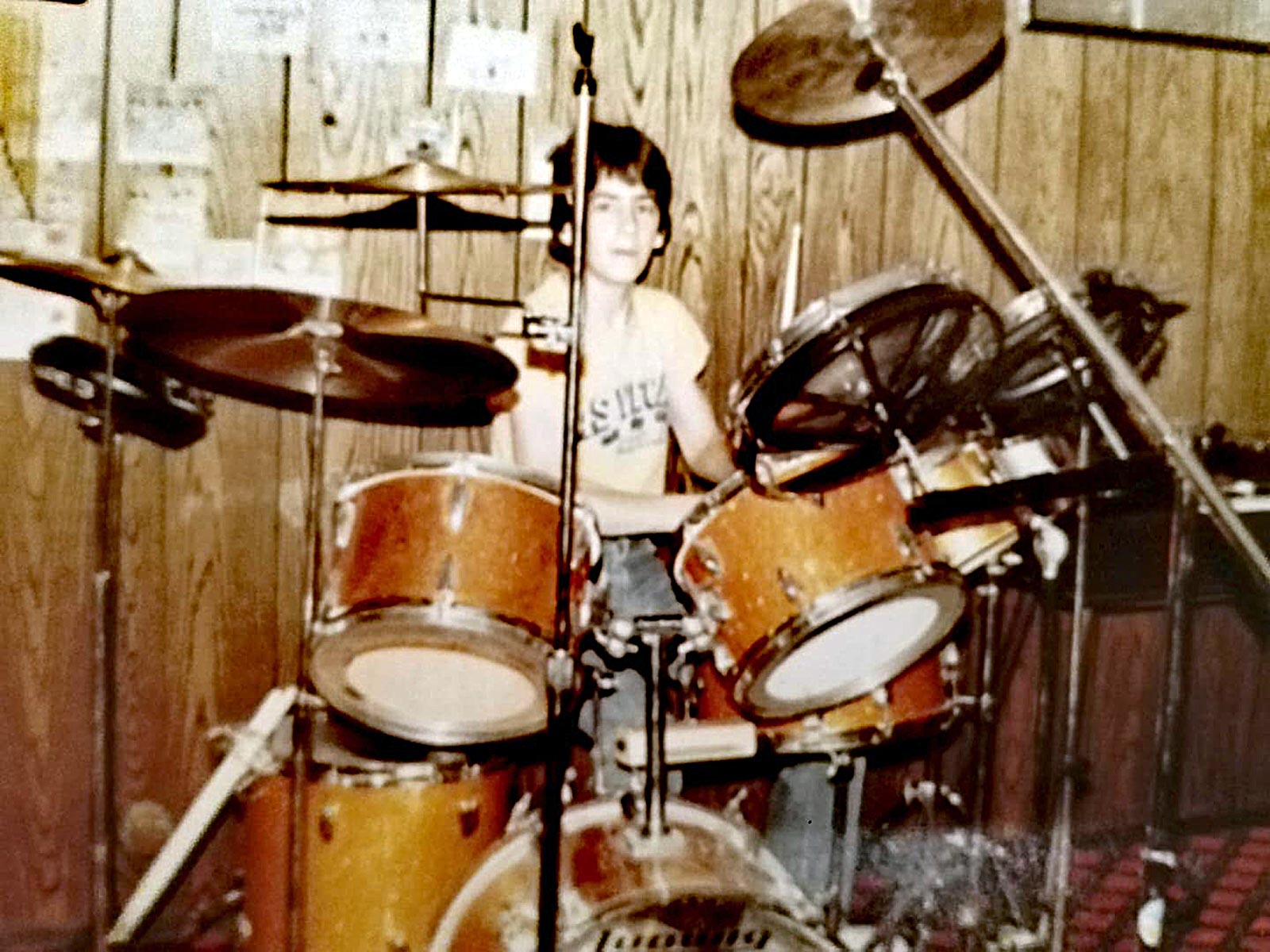 Notice the Orange Sparkle color of this kit. Some things never change and old habits never die. Of the 11 drum sets I've owned in my life, 7 have been ORANGE, and here is why: The reason is I started playing drums because I saw Keith Moon playing with The WHO in the movie "TOMMY" rocking and then kicking over his ORANGE DRUM KIT, I said to myself, "That's for me, I need to play drums." Found this old Japanese drum set called Micro Sonic at a garage sale and my Mom and I bought that baby for 20 Bucks. Moon started me playing drums so maybe the color reminds me of the excitement of first learning to play and is also a dedication back to Keith also it looks like a school bus on stage so you can't miss the drummer!!!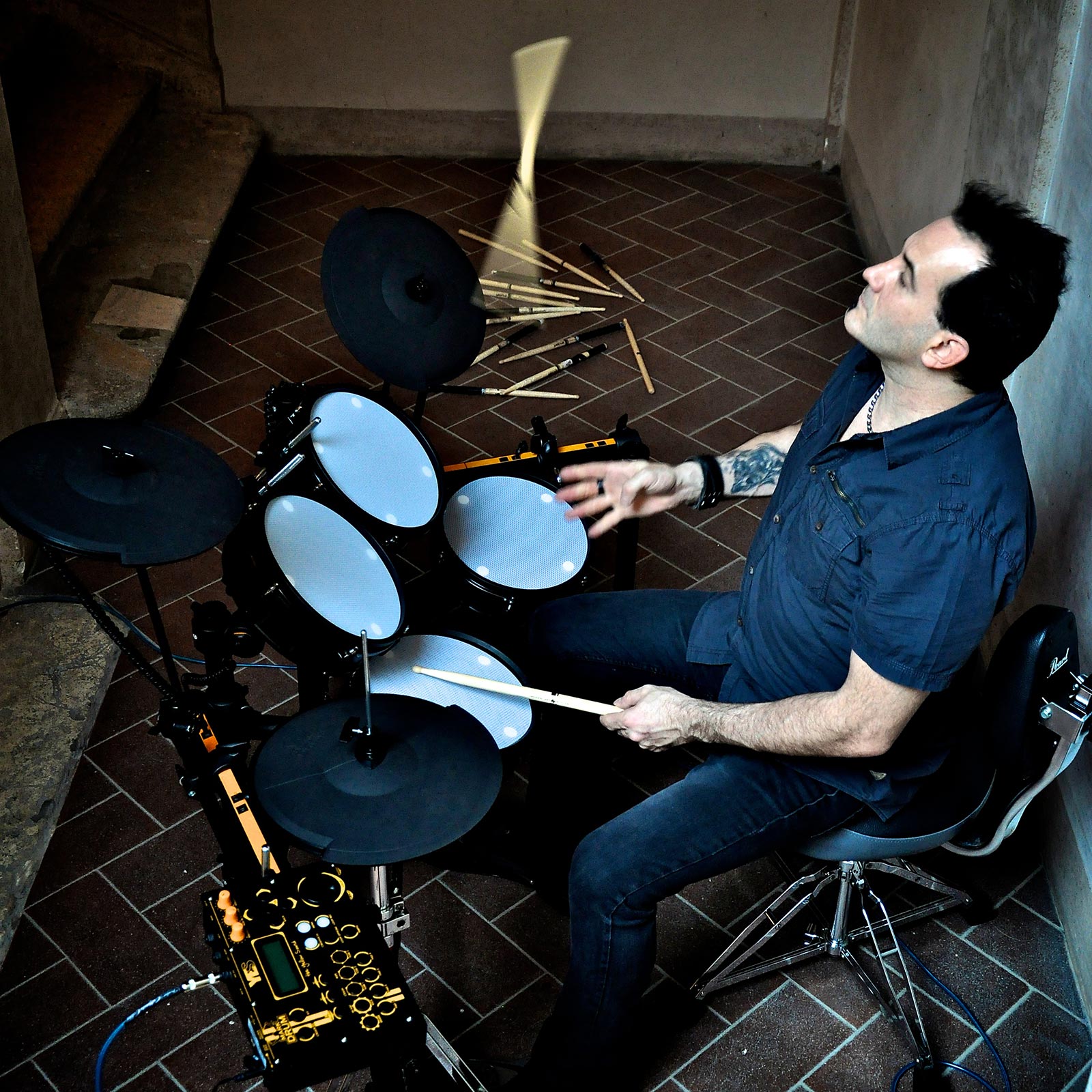 I got into electronic drums a long time ago. I started mixing them with my acoustic drums. I have done this since the beginning with old Synair and Simmons electric drums on my kit. I endorse MARK DRUM Electric drums from Italy. Great choice of sounds in the brain and comfortable feel to play. Here is an example of my electrics and acoustic drums together. If you want to hear in musical context check out the two Michael Romeo solo albums "War Of The Worlds part 1 & part 2. Both albums are filled with grooves and fills with acoustic and electric drums mixed.
Metal, Rock, and Prog Setup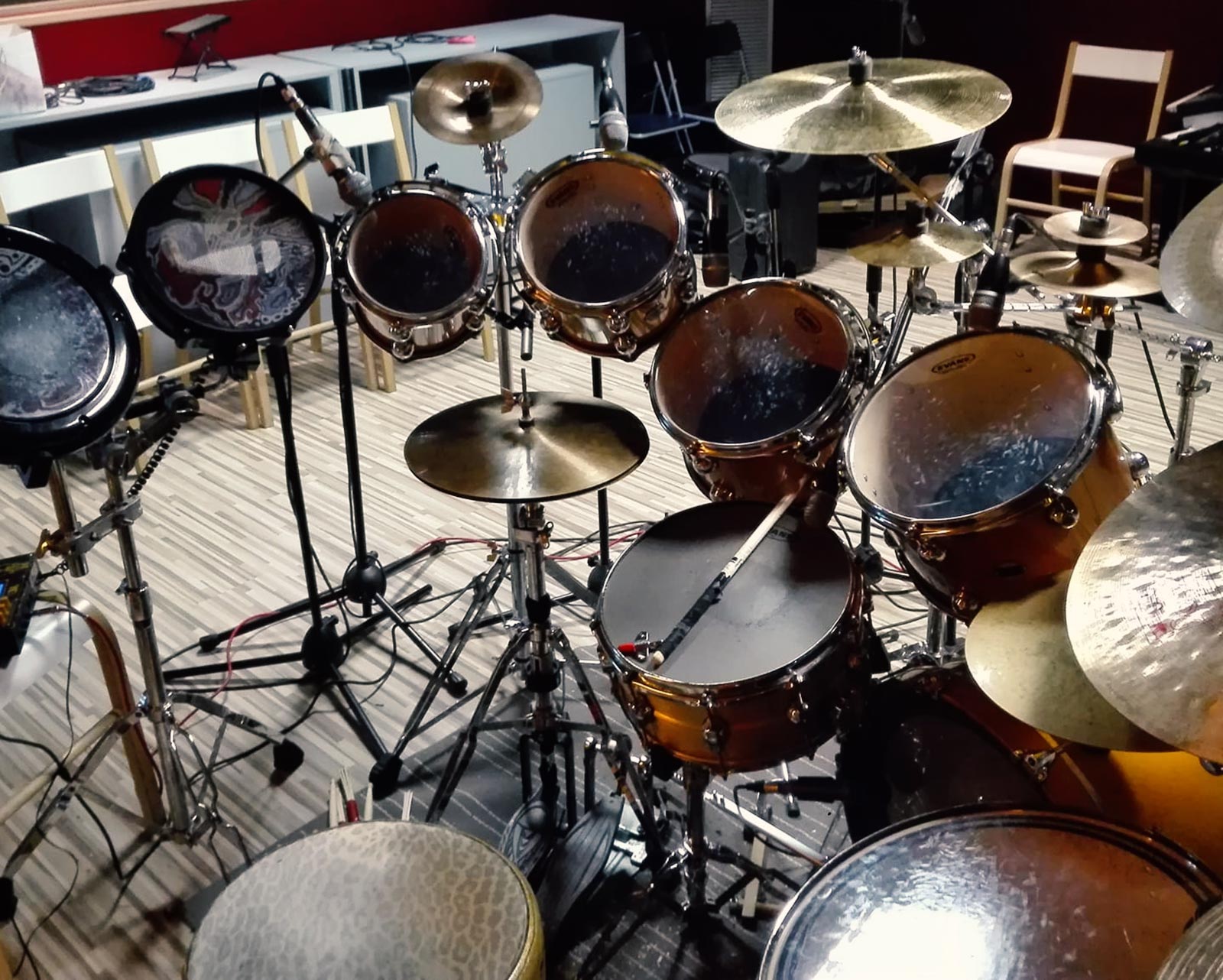 This is my setup for most Metal, Rock and Prog albums these days. I also incorporate a KORG Wave Drum on my set. Here are a couple of videos using all the gear together.
I have 2 Signature snare drums I use built by Drum Shop U.S.A. My main snare drum "The Omecist" is built for me by DRUM SHOP U.S.A. Macaluso Signature Snare 14″ x 5″. My second signature snare, "The Radio Wave" is built for me by Drum Shop U.S.A. and is a maple wood snare 13″ x 7″.
I use two different pairs of sticks depending on the music or situation I am playing with: 5B Wood Tip and REBOUND 5B (LONG) Wood Tip. 
I play Evans G2 (clear) tom heads on top and Resonant Black on bottom (above). On the snare I use an Evans Hybrid. The Hybrid is by far the best and most versatile snare drum head I ever played. Another amazingly innovative drum head from Evans is the EMAD kick drum head (below).
I am always changing my cymbal setups, but here is the latest configuration: 
15" Giant Beat Hi Hats and X Hat 14" Signature Series "Full"

Crashes 20" RUDE BASHER and 18" Signature Series Full Crash
22" Power Ride
2002 Cup Chimes 7" & 5"
Mega Bell, Accent Bell, Pure Bell
18" Color Sound China