Drum Clinics, Master Classes & Drum Camps
Recording Artist

Session Drummer

Touring Musician

Clinician

Teacher
I have done drum clinics for decades, my first in New York and then all around the planet. There are clinics for all instruments including guitar, keyboard, bass, etc. But the drum clinic is the most common and there is a reason for this.

Drummers are usually very similar in personality and drummers love to hang out together, talk shop, trade ideas, and just be together. There is a real drumming community out there and the "Drum Clinic" is where they meet, kind of like conventions such as Star Trek, Star Wars, Comic Shows, and Van Shows Haha…But it's true.
I was fortunate enough to grow up in New York and drum clinics were everywhere. I have seen the best drummers in the world come to my hometown as a kid. What a place to learn! I grew up seeing Buddy Rich, Louie Bellson, Terry Bozzio, Nicko McBrain, Steve Smith, Steve Gadd, Joe Franco, Bill Bruford, Ginger Baker Carmine Appice, who I think was the originator of the Drum Clinic. The clinics were always packed and after the shows, all the drummers would hang out and trade what they have learned, what they thought and go out after and talk drums because that is what they want to do.
In my career, I took what I saw and learned at these magical shows and helped spread it around the world to other drummers. The great thing I see at my clinics is that the vibe is still the same as back then, drummers meeting, hanging out, jamming together, and talking shop. After I graduated from P.I.T. (Percussion Institute Of Technology – Musicians Institute), I started doing clinics. I began in New York but I expanded across the ocean doing clinics in almost every European Country, Asia, and South America. A lot of these countries have never had clinics like the ones I attended when I was young, so the vibe is always engaging and exciting. I have done over 100 clinics to date. I love it – traveling on trains, planes, and buses with my pedals, sticks, and bag for sweaty drum clothes after the show. That is it, no singer to deal with (joking guys), no band…just me. This is how I made my living when I moved to Europe a decade ago. 
I offer drum clinics to schools, music stores, and clubs. It's a great way to learn and a fun atmosphere because all the drummers are in it together. I try to make the clinics fun but at the same time keep them serious with the subject matter and the drumming. I usually start with a drum solo that involves most of the things the students will be learning for the next hour and a half. I also invite all musicians and non-musicians, in the end, it's all about music which everyone can enjoy. This is why I also play along with music in the clinic such as songs, pre-recorded tracks, or even play a couple of songs with a band what I prefer is to play and jam with local musicians from the town where the clinic is. This is great because the local guys get to see locals perform with me in the clinic. This also breaks the ice and makes the vibe instantly relaxed and friendly. In my clinics, I involve local students to come up and volunteer to learn on the spot a drum fill, groove or pattern live on stage. Having the locals play with me makes it easier to have the students come up and learn what I teach them on the stage and the audience loves it too, we are all in it together is the main theme. 
I teach a lot from my drum books I have published. Linear drumming is a big part of my clinics and how to apply it in music, solos, and all. Double bass, odd times, rudiments used on the drum set as grooves, hand, and foot technique, playing to click and question-answer section which is always fun. Since the students have already played on stage, learned on stage with me, they are more open and relaxed and are not shy to ask questions. The more fun and relaxed, the more people pay attention and learn. They all walk out with something they learned in the clinic.
In some clinics, I stay the night in the town and usually offer private lessons in the local music store or club. By this time the students that attended the clinic the day or the night before are comfortable and we are like friends the next day when we do private lessons. I have made some genuine friends around the world this way and I still keep in touch with a lot of students I have met at the clinics and private lessons. This is a great way for drummers to learn tools, methods, techniques, licks, fills, and much more, that allows them to carry it with them for life. I teach a lot of real-life experience at my clinics by also telling stories from things that have happened to me in the music world on and off the drums. Real stories of working with some very big names on albums and on tours. The audience loves this because a lot of the artists are heroes to a lot of the musicians and students at the clinics.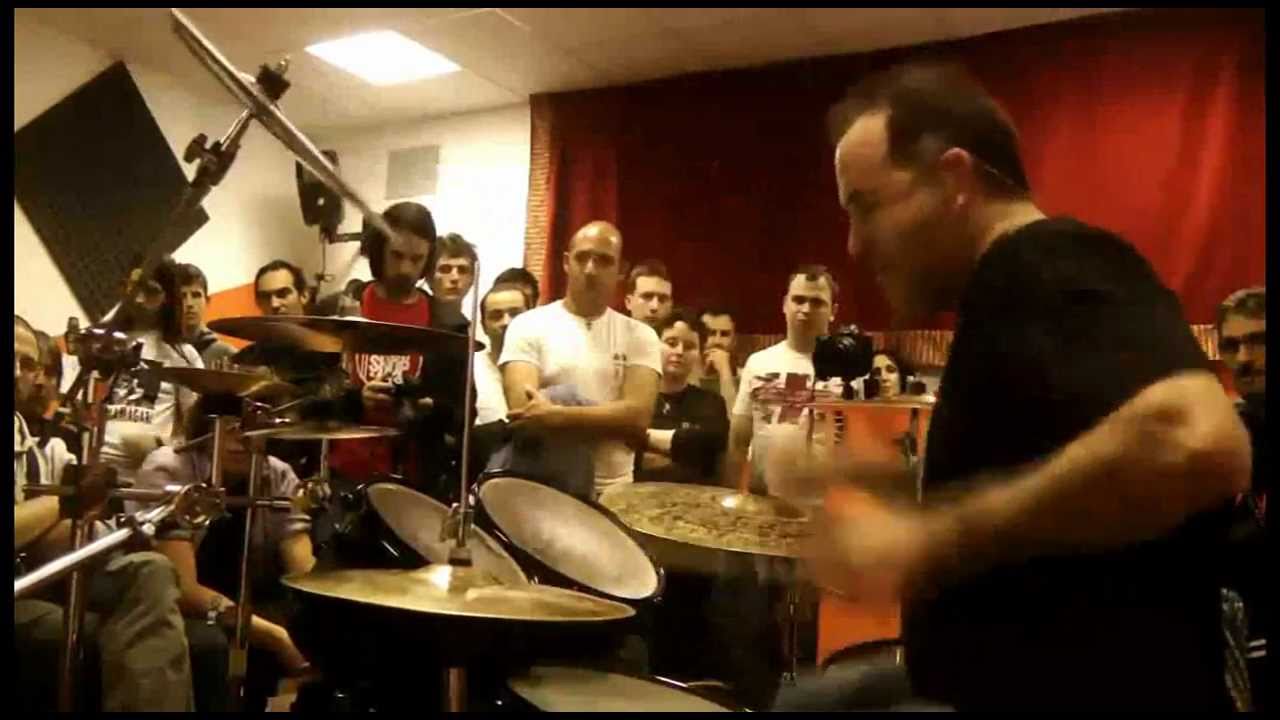 1:15
7:06
2:38
3:42
4:55
Drum Camps & Master Classes
The drum camp is similar but also very different from the clinic. Drum Camp is usually a two-day event that is like an all-day lesson. Students pre-book a slot in the camp and attend with other drummers. This again is great because now students are all together in two days of all day long lessons. Students realize that this is not a competition and they are there for the same purpose, to learn. Seeing other students learn right in front of them makes them want to learn also. Again the ice is broken and the students start to help each other and trade their knowledge with each other. It's a great networking tool for the students, they make friends this way and usually hang together after. All ages, skill levels, from beginner to pro are welcome at these drum camps, its great to have them all together in one class, I know how to work with them together even though completely level of player. I offer drum, studio session player, and audio recording camps as well as Master Classes, which is the same thing but just one-day events. If interested in having me come to your town for a clinic, camp, or master class, contact me via my contact form.